Well, if you've ever been to the Today Show, you would know that there is a lot of waiting around.. cause guests don't come out till about 8:30-9:00 (& the show starts at 7am, so that's an hour & a half wait right there). So I'm just standing there the whole time, talking to my mom about it. I kept saying, "I really, really, really hope they do his interview out here. I would do anything for him to just walk by us.. I think I would die." So we spent that hour & a half wait just hoping that he would come outside (cause sometimes they do actor interviews indoors). A little after 8:30, we saw Russell inside the building about to come outside. I FREAKED OUT. He walked through with his bodyguards & stood by the staircase waiting to go up to do his interview (if you didn't see the interview, it was up on a platform, which just happened to be RIGHT BEHIND ME. He was waiting for about a minute or so, so while he was there, I asked him to sign my "Booky Wook" & he said "gladly". It was so adorable.. :D He signed it & gave me back my book & Sharpie marker (which nobody else will ever, ever use or touch, lol) & then he went up to do his interview. During his interview, I was standing there with my mom shaking & crying (literally, crying).
As he was coming down from doing the interview, I asked him for a picture & he said, "of course, sweetie!" & hugged me (in a full, 2 armed embrace; I'm not even exaggerating), & gave me a kiss on the forehead ♥___♥ & yes, that's my autographed "Booky Wook" in the picture, as well (: We took many other pictures of this experience, as well.
While he was signing my book before the interview, I got to tell him how much this means to me, what a huge fan I am, & I literally told him he made my life, lol. He kept calling me "sweetie". & I was the only one he stopped for pictures & autographs for, xD. He was SOOO nice & without a doubt, one of the sweetest people EVER. Not many celebrities would stop & take the time out to do that for a fan (sad, but true). He's absolutely incredible.. he always has been. He'll never know just how much this truly ment to me. To him, it probably seemed like no big deal; but to me, it seemed like everything. I never in a million years even thought I would get within 3 miles of him, nevermind actually hugging him ♥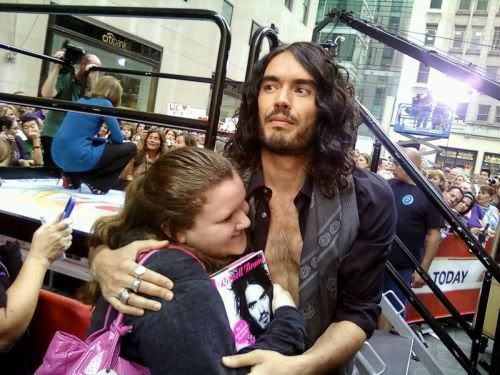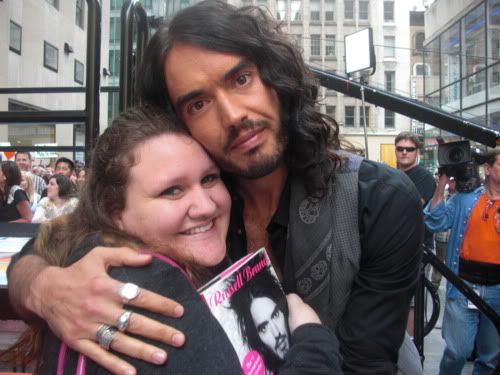 Russell & I :D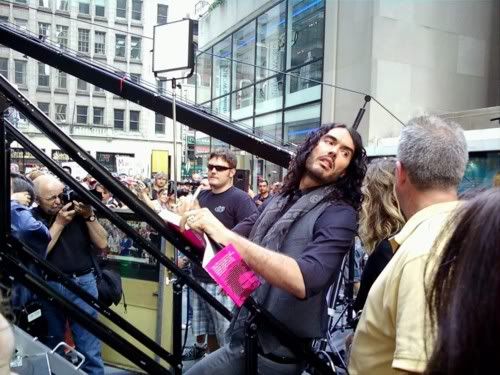 Russell signing my book.
My signed Booky Wook.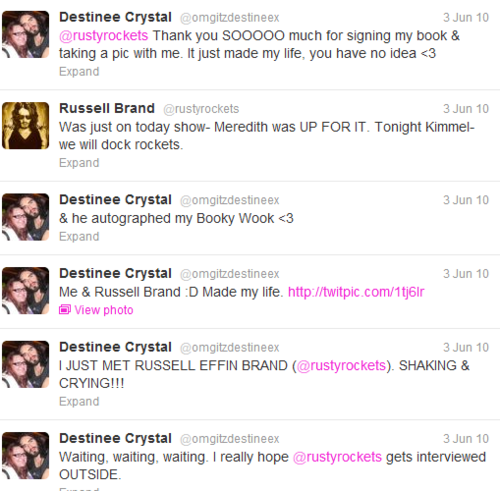 My tweets from before & after Russell came out.
So I met Russell Brand today (June 3rd, 2010) at the Today Show. I had it planned for months to go for the American Idol concert & I found out about 2 weeks ago that it just so happened that RUSSELL FREAKIN' BRAND was going to be at the same exact show. I've been a Russell fan for quite a few years now & I look up to & admire him greatly. He's someone I absolutely love & adore. Well, if you know me, you already know my love for this man is endless. Well, anyway. We went just hoping to get at least a glimpse of him. I couldn't believe we were in NYC the same time he was, never mind what it would be like to actually meet him. But I did bring my "Booky Wook" & my Rolling Stone cover.. just in case by some miracle, I did happen to get the chance to meet him. But never in a million years did I think I actually would, lol. I actually, honestly still can't believe this even happened.
Current Mood:

ecstatic